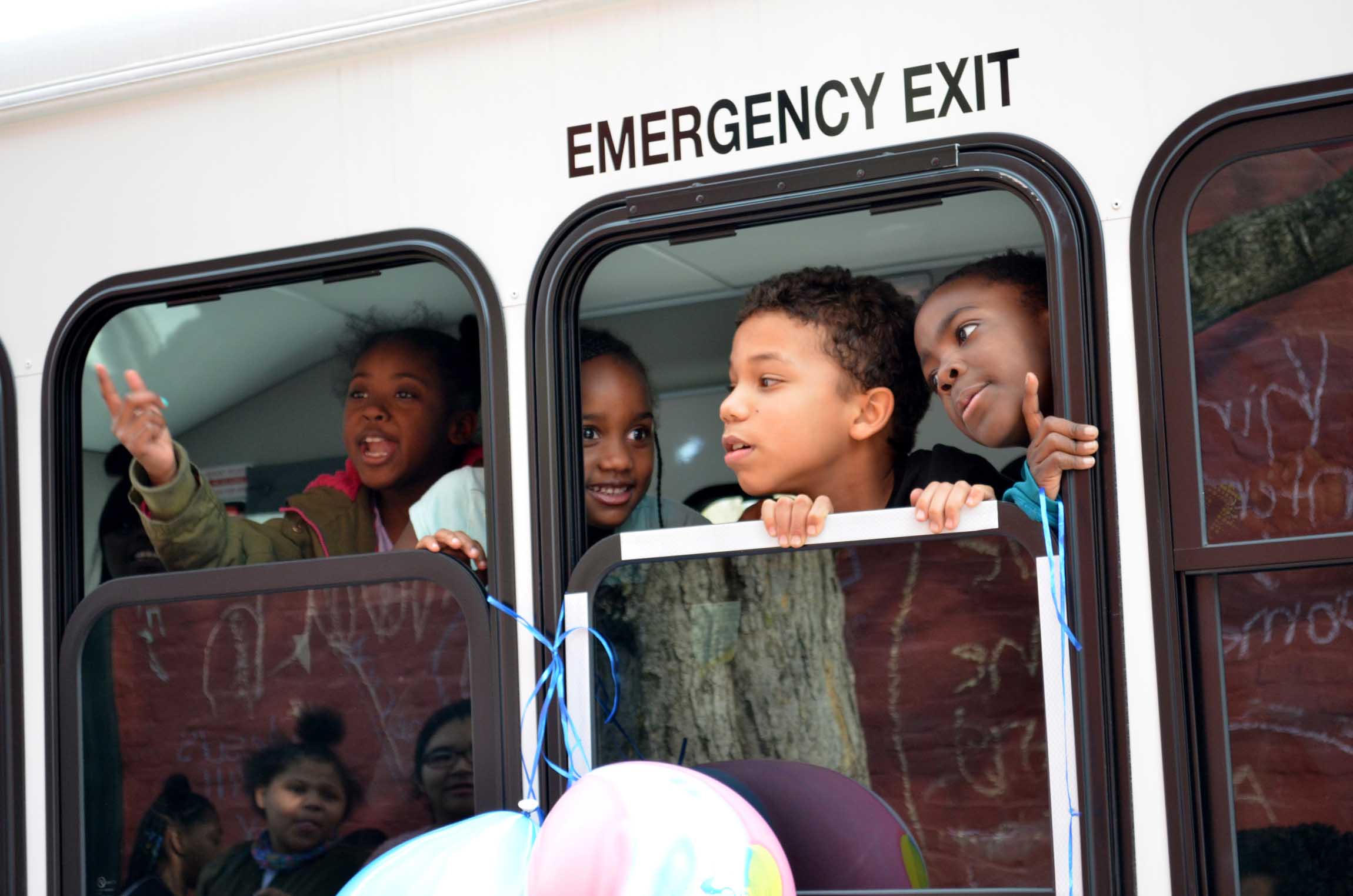 The children's anticipation exploded into excitement when they saw the new bus.
By Bryan Reynolds
Wednesday, March 13, 2019
The children of The Kings Center were delighted when their surprise, a new bus for the center, came driving down Third Street Wednesday evening escorted by officers with the Frankfort Police Department.
"I'm excited because we finally get to go places," said 12-year-old Larrissa Bush, who attends Second Street School. "In the spring break, we'll be able to move around and not just sit here and play outside all the time."
Dozens of children, ranging in age from 6 to 12, were gathered outside The Kings Center after school playing football and basketball in the streets while moving for cars. They were also trying to deduce the surprise they were waiting to see.
"The board was able to secure the funds to purchase a brand new bus for the program so we'll be able to have our own transportation," said The Kings Center Executive Director Deneen Petty.
The center provides programs for children 6 years old through high school, including homework help, enrichment programs and whatever else the children or family may need, Petty said.
According to a press release provided by Kay Scott, a board member for The Kings Center, Kosair Charities, a charity that provides financial support to help the well being of children, donated $60,000 — which covered the cost of the bus.
"We are proud to help fund a new bus for The Kings Center which will make enriching field trip experiences possible for more kids in the Frankfort area," Keith Inman, president of Kosair Charities, said.
Petty said the old bus of The Kings Center broke down some time ago and the center has worked with the City of Frankfort, local organizations and churches to get transportation to take children on field trips.
The children's anticipation exploded into excitement when they saw the new bus. The young children were jumping up and down while the older ones cheered.
Much to the dismay of the older children, the younger ones got to ride the bus first. FPD officers escorted the bus, filled with children, through downtown Frankfort and up Capital Avenue before returning to the center so the children could show it off to the community.
When the bus returned with the young children, a group of them were shouting out the windows, "We're Kings Center!"
Larrissa said now that they have the bus she's hoping a trip to the museum or park is in order for spring break this year.